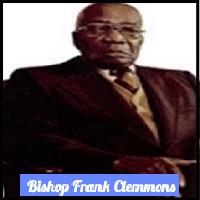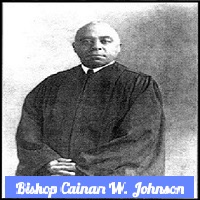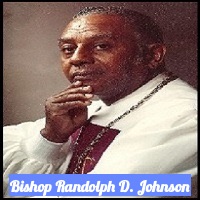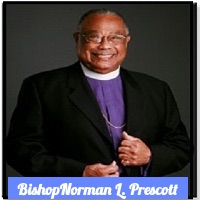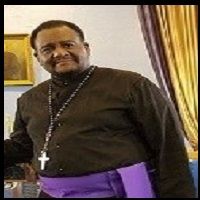 Church History
It was here that God gave the gift of music to the Pastor's twins, Randolph and Rudolph. The 12-year-old boys played the piano so fervently, that people came from all around to see and hear the twins play. The Lord blessed and the church grew rapidly. On Sunday nights, the children had to give up their seats and go into the kitchen for order for the visitors to be seated.
Bishop C.H. Mason, the church founder, and Mother Lizzie Robertson, the first International Mother were frequent visitors at 54 Harrison. We were blessed with outstanding men and women of God proclaiming the word, some of which were: The later overseer Cornelius Range Sr., late overseer, O.M. Kelly, Elder O.T. Jones Sr., Mother Washington and her son Elder F.D. Washington and others.
The church grew and increased in membership. With a much larger congregation now, we moved to 26 Seidler Street, J.C. After much controversy and crisis within the church, Elder Johnson moved to Pacific Avenue, J.C. corner of Ash Street.
Through it all God continued to bless our Pastor and in 1941, the church was blessed to move into its new home at 405-07 Communipaw Avenue. Many subsequent ministries found their roots here and have gone out to establish great works.
On March 7, 1967, the Lord called our founder, Bishop C.W. Johnson from labor to reward. His wife, Mother A. L. Johnson also went to be with the Lord on May 9, 1989. The mantle fell on his son, Dr. Randolph D. Johnson, who had worked faithfully through the years with his father. Bishop O.T. Jones Sr. installed him as Pastor on March 1967. Before then, Rev. Johnson was the Jr. Pastor of C.O.G.I.C Temple.
Rev. Randolph Johnson continued to sustain daily with prayer, supplication and thanksgiving. When Rev. Johnson became Pastor in 1967, he had a vision of new church building. He started a fundraising campaign to rehabilitate the existing building. The various clubs within the church sold dinners, gave bus rides, sponsored international dinners, prayer breakfasts and teas to raise money.
Thanks to the great workers in the church, Mother A. Hines, Mother Rachel Lee, Sis Victoria Covington, Sis. Gladys Pierce, Sis. Queenie Williams, Sis Queenie Bryant, Sis. Bessie Parks, Sis. Lucille Hightower, Sis. Irma Myers, Mother Edna Smith, Deacon Claude Bryant Sr., Elder & Mother Dan Parrish, Mother Timey Jefferson, Rev. Robert Jefferson, Sis Ruth Gibson, Sis Runette Peter (choir director), Sis. Lena Johnson, Sis. Ann Connors, Deacon and Sis. Ben McDaniels, Sis Ann Ben Ali, Sis. Ruth Hillman, Sis.Lessie Clay, Sis. Rachel Williams, and many others, the vision was realized. The church had been completely renovated inside and out, including air conditioning, new restroom facilities and 2 parking lots.
As Pastor, Rev. Johnson had various preachers come to minister and revive the church. Preachers such as the late Bishop E.E. Cleveland, Bishop O.T. Jones Sr. and Jr., Dr. Randolph Moore, Rev. E. Ezekiel and Rev. Stenneth Powell to name a few. Superintendent Garrison Hines Jr., Superintendent H. Colclough, the late Bishop John Hines, Superintendent Eddie F. Williams, Jr., Elder E. Bryant and others.
The ministry here has been founded and secured by prayer with prayer warriors such as Mother A. Simpkins, Mother Agnes L. Johnson, Mother M. Parrish, Mother Edna Smith and others. One of the most memorable miracles here was how God intervened for one our members, the late Mother Connie Bryant, who had been pronounced dead at the Jersey City Medical Center. Sis Bryant had five small children. The oldest was Elder, who was about 13 years old, came running to find the Pastor. Pastor and Sis Johnson came to the hospital to find Sis Bryant ready for the morgue. They offered a prayer to God and God brought Sis Bryant back and added 51 more years to her life. "What a mighty God we serve".
On September 17, 2009, the Lord called our Pastor home. His wife Evangelist Candy Johnson also went to be with the Lord on June 11, 2008. In 2009 Bishop Norman L. Prescott became the Chief Pastor of C.O.G.I.C Temple. Bishop Prescott appointed Dr. Eddie F. Williams Jr., as Pastor in December of 2011. On Saturday, April 14, 2012, was installed as Pastor of Church of God in Christ Temple.

Prior to Rev. Williams being Pastor of Mount Zion C.O.G.I.C, he was an active member of C.O.G.I.C Temple. He was a member of the Sunday School Department, Y.P.W.W. Department, the Youth Department, the Men's Department, the Deacon Board, a choir member, percussionist and Spiritual Son of Rev. Johnson.
We, the Church of God In Christ Temple are yet striving for higher heights and deeper depths in God. We honor the Lord who has been our guide in times past. We thank Him that He is our Master-Builder today, and we look forward with great anticipation to reign with Him in the future. Thank God for our leaders, past and present, Bishop C.W. Johnson and his wife, Mother Agnes L. Johnson, Rev. Randolph Johnson and his wife Evangelist Fannie "Candy" Johnson, Bishop N. Prescott and his wife Evangelist Betty Prescott, and Dr. Eddie F. Williams and his wife Evangelist Margaret A. Williams working by their side.

There was a man sent from God whose name was Cainan W. Johnson. The year was 1928; Elder Cainan W Johnson and his wife Sis Agnes L. Johnson with their six children, Ruth, Randolph, Rudolph, Reginald, Runette and Rachel, came to 54 Harrison Avenue, Jersey City, N.J., to do the work for the Lord.
The Church had already been established by Bishop Clemmons, Sr. of the First Church of God in Christ, New York City had been its former Pastor. Upon arrival at 54 Harrison, they met the Jefferson's. Sis. Timey Jefferson and her family were there as well as Deacon Gary, Deacon and Mother Millhouse, Deacon Saunders and others. Pounds were instituted at 54 Harrison. The saints bought pounds of sugar, potatoes, flour, etc., to help support the pastor and his family.